You are here
Back to top
Out of Place (Hardcover)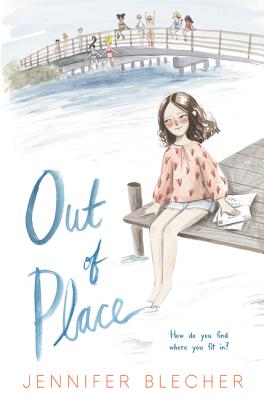 $16.99

Usually Ships in 1-5 Days
Description
---
When twelve-year-old Cove Bernstein becomes the target of a school-wide bullying campaign, she sets out to find a way to leave her home on Martha's Vineyard for New York City, where her best friend lives. But Cove discovers that friends can appear in the unlikeliest places, and maybe home isn't the worst place to be after all.
Jennifer Blecher's debut novel is a voice-driven story about bullying, friendship, and self-reliance that hits the sweet spot for fans of Ali Benjamin's The Thing About Jellyfish and Erin Entrada Kelly's You Go First.
Twelve-year-old Cove Bernstein's year has gone from bad to worse. First, her best friend, Nina, moved from Martha's Vineyard to New York City. Then, without Nina around, Cove became the target of a bullying campaign at school. Escape seems impossible.
But opportunities can appear when you least expect them. Cove's visit to a secondhand clothing store leads her to a surprising chance to visit Nina, but only if she can win a coveted place in a kids-only design competition. Cove doesn't know how to sew, but her friend at the retirement home, Anna, has promised to teach her. And things start really looking up when a new kid at school, Jack, begins appearing everywhere Cove goes.
Then Cove makes a big mistake. One that could ruin every good thing that has happened to her this year. One that she doesn't know how to undo.
Jennifer Blecher's accessible and beautifully written debut novel explores actions and consequences, loneliness, bullying, and finding your voice. This voice-driven friendship story is for fans of Rebecca Stead's Goodbye Stranger and Jodi Kendall's The Unlikely Story of a Pig in the City.  
Includes black-and-white spot art throughout.
About the Author
---
Jennifer Blecher is the author of Camp Famous, Stick with Me, and Out of Place. She lives in Boston, Massachusetts, with her husband and their three children, but spends part of every summer on Martha's Vineyard. www.jenniferblecher.com
Praise For…
---
"A tender-hearted debut that navigates the emotional waters of wanting to stay young and grow up, all at the same time."  — Jodi Kendall, critically-acclaimed author of THE UNLIKELY STORY OF A PIG IN THE CITY and DOG DAYS IN THE CITY
"Cove may feel out of place, but she'll quickly find her place in readers' hearts. Her voice glows like a Menemsha sunset in Jennifer Blecher's moving debut." — Julie Berry, author of The Scandalous Sisterhood of Prickwillow Place
"OUT OF PLACE is sensitively observed and deeply felt, yet also light on its feet. Some of its components seem, at first, peculiarly shaped, but this I promise you: They are all part of Jennifer Blecher's grand design. By the end, all the loose pieces come together beautifully, seamlessly, surprisingly, as if threaded with magic." — Jack Cheng, author of the acclaimed See You in the Cosmos
"Blecher's debut is a sensitive and compassionate tribute to every child who has ever felt like a misfit. . . .vibrant and memorable. Cove is an emotionally intelligent heroine who successfully names and processes her feelings. A beautiful story about learning to speak up and taking risks." — School Library Journal
"[A] thought-provoking tale of childhood isolation and powerlessness experienced in a socially networked world . . . this recommended read should spark lively discussion; a good bet for an intergenerational book club. " — Kirkus Reviews
"Blecher has created a sweet and realistically vulnerable character who longs to feel validated and respected. . . . This is a tender, uncomplicated coming-of-age story that illustrates how hard it can be to fit in at any age." — Publishers Weekly
"Blecher's characters, from Cove and her friends to her yoga-instructor mother and Mom's new surfer-dude boyfriend to the year-round island residents, are well-rounded, and her sense of place—including the socioeconomic disparities of this famously wealthy vacation destination—is effectively conveyed." — Horn Book Magazine
"The book is at its best in conveying Cove's vulnerability at Nina's loss and her powerlessness in the face of her classmates' bullying . . . Her island existence is . . . a credible mix of desirable and frustrating, and many readers will sympathize with her dream." — Bulletin of the Center for Children's Books
"Blecher's debut is effortlessly readable, with a heroine whose gentle but determined nature makes her easy to root for. . . . Her creative stand against bullying has a subtle buildup and a rewarding conclusion. A sweet, satisfying story about finding your place." — Booklist