You are here
Back to top
The Friar of Carcassonne: Revolt Against the Inquisition in the Last Days of the Cathars (Hardcover)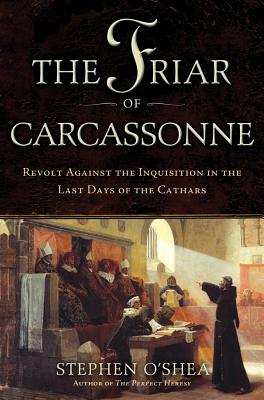 Description
---
In 1300, the French region of Languedoc had been cowed under the authority of both Rome and France since Pope Innocent III 's Albigensian Crusade nearly a century earlier. That crusade almost wiped out the Cathars, a group of heretical Christians whose beliefs threatened the authority of the Catholic Church. But decades of harrowing repression-enforced by the ruthless Pope Boniface VIII, the Machiavellian French King Philip the Fair of France, and the pitiless grand inquisitor of Toulouse, Bernard Gui (the villain in The Name of the Rose)-had bred resentment. In the city of Carcassonne, anger at the abuses of the Inquisition reached a boiling point and a great orator and fearless rebel emerged to unite the resistance among Cathar and Catholic alike. The people rose up, led by the charismatic Franciscan friar Bernard Delicieux and for a time reclaimed control of their lives and communities. Having written the acclaimed chronicle of the Cathars "The Perfect Heresy," Stephen O'Shea returns to the medieval world to chronicle a rare and remarkable story of personal courage and principle standing up to power, amidst the last vestiges of the endlessly fascinating Cathar world.
Praise for "The Perfect Heresy"
"At once a cautionary tale about the corruption of temporal power...and an accounting of the power of faith ...It is also just a darn good read."-"Baltimore Sun"
"An accessible, readable history with lessons ...that were not learned by broad humanity until it saw 20th-century tyrants applying the goals and methods of the Inquisition on a universal scale."-"New York Times"
About the Author
---
Stephen O'Shea is an historian and the acclaimed author of Sea of Faith: Islam and Christianity in the Medieval Mediterranean World, The Perfect Heresy: The Revolutionary Life and Death of the Medieval Cathars, and Back to the Front: An Accidental Historian Walks the Trenches of World War I. He lives in Providence, Rhode Island.