You are here
Back to top
The Edge of the Plain: How Borders Make and Break Our World (Hardcover)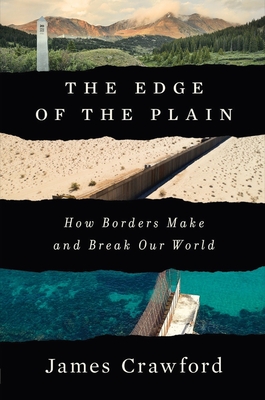 $30.00

Usually Ships in 1-5 Days
Description
---
A wide-ranging journey through the history of borders and an exploration of their role in shaping our world today.
Since the earliest known marker denoting the edge of one land and the beginning of the next—a stone column inscribed with Sumerian cuneiform—borders have been imagined, mapped, moved, and fought over. In The Edge of the Plain, James Crawford skillfully blends history, travel writing, and reportage to trace these borderlines throughout history and across the globe.
What happens on the ground when we impose lines on a map that contradict how humans have always lived—and moved? Crawford confronts that question from bloody territorial disputes in Mesopotamia, to the Sápmi lands of Scandinavia, the shifting boundaries of the Israel-Palestine conflict, efforts to build a wall on the United States-Mexico border, and the dangerous border crossings pursued by migrants into Europe.
And yet the role of borders extends beyond specific sites of conflict. On the largest scale, borders define the limits of empire—the two walls in Britain that once represented the northwestern edge of the Roman Empire; the mythological eastern gate supposedly closed off by Alexander the Great; China's virtual "Great Firewall." On the smallest, human scale, cell walls are the last physical barrier against disease, after lines of quarantine have failed.
Finally, as The Edge of the Plain reveals, humans have not only made their mark on the landscape: the landscape itself is now changing, more and more rapidly due to climate change. Crawford introduces us to both the Alpine watershed—one such shifting, natural borderline—and the "Great Green Wall" in Africa, envisioned as an international, community-built bulwark against desertification.
Borders are as old as human civilization, and focal points for today's colliding forces of nationalism, climate change, globalization, and mass migration. The Edge of the Plain illuminates these lines of separation past and present, how we define them—and how they define us.
About the Author
---
James Crawford is a historian, publisher, and broadcaster. He worked at Scotland's National Collection of Architecture and Archaeology for over a decade and is the writer and presenter of the BBC One documentary series Scotland from the Sky. He lives in Edinburgh.
Praise For…
---
Beguiling.... Crawford has a knack for finding original perspectives and observations.... If all borders are stories, we could start by telling better ones. Borders, after all, may be the places where we are divided. But they're also the places where we touch.
— Joshua Keating - Slate

[A] lyrical tour of borders in the past and the present.... Crawford is at his best when surrendering to his propensity for reverie, an irrepressible, almost romantic sense of wonder that drives the reader from chapter to chapter.
— Kanishk Tharoor - Washington Post

Pulls history, travelogue and reportage into an ambitious investigation.... The borders that mark our world are either ineffective, inhumane or both. The Edge of the Plain asks us to envision alternatives.

— Lauren Redniss - New York Times Book Review

An innovative and eclectic study of borders past, present, and future.... Throughout, [Crawford] draws fascinating and original parallels between historical events.... This is a vital and eloquent reminder that borders control 'our landscapes, our memories, our identities.'
— Publishers Weekly, starred review

Crawford uncovers the cost of these divisions in terms of human suffering, economic inequality, and environmental degradation.... A timely, valuable discussion of a pivotal issue.
— Library Journal, starred review

A text reminiscent of those of Barry Lopez or Robert Macfarlane.... A thoughtful consideration of the imaginary lines that hold meaning for so many.
— Kirkus Reviews

A richly essayistic travelogue.... Excellent.
— Steven Poole - The Guardian

By exploring obvious borders and less obvious ones and looking at how they do (or don't) fit together, this illuminating book helps readers make sense of more than a few of our planet's edges.
— Randy Cepuch - Washington Independent Review of Books

A lush, vivid, and powerful exploration of an idea as old as humanity, yet one which is implicated in today's most intractable global challenges. On the surface, borders appear to be about fixity. But Crawford digs far deeper. In his moving and evocative prose, we learn that borders morph, shift, and flex; they live, breathe—and sometimes choke. Crawford's border stories are richly populated, showing how borders are themselves the human performance of stories, often violent. Ghosts and phantoms haunt Crawford's terrain. From the frozen Arctic lands of Scandinavia to Africa's Sahel, Crawford travels far and wide in his pursuit of the meaning of borders. Drawing lines from deep history to today's fractured existence, The Edge of the Plain is an urgent call for comprehension of a practice that is destined to demarcate all our futures.

— David Rooney, author of About Time: A History of Civilization in Twelve Clocks

With The Edge of the Plain Crawford has created a beautifully observed and carefully researched collection of reportage on a diverse series of borders—of historic Palestine, in the Mediterranean, USA/Mexico, as well as other less-considered borders—those revealed by our rapidly changing climate, and the microscopic frontiers of the human body. Sometimes the view from the edge is the most illuminating one.

— Gavin Francis, author of Adventures in Human Being: A Grand Tour from the Cranium to the Calcaneum

[A] wide-reaching examination of the walls, barriers and 'landscape interventions' that promote both freedom and independence, and enforce exile and humiliation.... Borders are indeed a dirty affair, but as Crawford's excellent book demonstrates, they are also fascinating.
— Joanna Grochowicz - Geographical