You are here
Back to top
Two Good Dogs: A Novel (CD-Audio)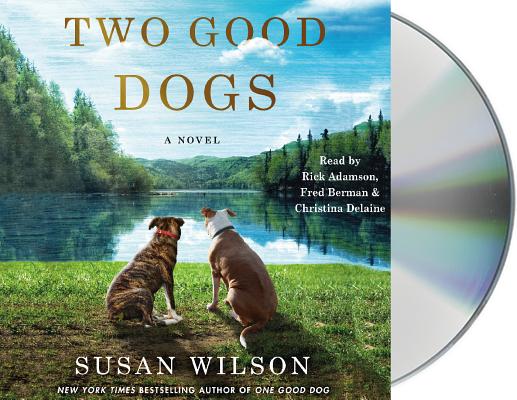 $39.99
Usually Ships in 1-5 Days
Description
---
Susan Wilson, the bestselling author of One Good Dog delivers another powerful audiobook of loyalty and love.
Single mom Skye Mitchell has sunk her last dime into a dream, owning the venerable, if run-down LakeView Hotel in the Berkshire Hills. It's here where she believes she'll give her fourteen-year-old daughter Cody a better life. But being an innkeeper is more challenging than she imagined, and Cody still manages to fall in with the wrong crowd. In addition, Cody is keeping an earth-shattering secret that she's terrified to reveal. The once loving, open girl has now become completely withdrawn, and Skye is both desperate and helpless to reach her.
When Adam March and his pit bull Chance check into the hotel, it becomes the first of many visits. Here in these peaceful mountains he finds an unexpected relief from his recent bereavement. He and the beleaguered innkeeper form a tentative friendship. Adam knows the struggles of raising a difficult teenager and Skye understands loneliness.
And then there is Mingo, a street kid with a pit bull dog of his own. When Cody discovers an overdosed Mingo, Adam takes the boy's dog not just for safekeeping, but to foster and then rehome. But the dog isn't the only one who needs saving. A makeshift family begins to form as four lost people learn to trust and rely on each other, with the help of two good dogs.
About the Author
---
Susan Wilson
is the bestselling author of books including
One Good Dog, Cameo Lake
and
Beauty
, a modern retelling of Beauty and the Beast, which was made into a CBS-TV movie. She lives on Martha's Vineyard.
Rick Adamson
has twenty years of experience in voiceovers, spoken word, acting, corporate sales training, and award-winning audiobook narration.  He is a Grammy nominee and an American Library Association award-winning narrator.  Most notably, his work includes reading for authors such as Bill Gates, Al Franken, O. Henry, and Susan Wilson, as well as
Fast Food Nation
,
The
Secret
, and
The Ransom of Red Chief.
 Adamson has done voiceovers
for many Fortune 500 companies such as
AT&T Labs, Pfizer, Merrill Lynch Online, Prudential Advisor,
and 
Tyco
. As a stage actor, he has performed both in NY theater and regional theater in productions such as
You're a Good Man, Charlie Brown, Annie
, and
Cat on a Hot Tin Roof.
Fred Berman is a five-time winner of the AudioFile Earphone Award for Audiobook Narration and the recipient of the 2013 Audie Award for narration in Spy the Lie. He has read a number of audiobooks for young listeners, including Judy Blume's Soupy Saturdays with The Pain & The Great One and Andrew Clements's The Last Holiday Concert. He has also narrated the audiobooks for Robert Kirkman's popular series, The Walking Dead.
Berman is an accomplished actor of both the stage and screen as well, performing on Broadway as Timon in The Lion King and off-Broadway in Hamlet, Twelfth Night, and King Lear. On television, Berman has had roles on NBC's hit series Smash as well as All My Children and Law and Order. He lives in New York City.
Christina Delaine is a successful audio book narrator who has voiced the works of several New York Times bestsellers such as Chelsea Cain and Erica Spindler. She won AudioFile Earphones Awards for her readings of Susan Wilson's The Dog Who Danced and Chelsea Cain's Kill You Twice.
 Onstage, she has performed at The Public Theater, Trinity Repertory Company, Actors Theater of Louisville, Ensemble Studio Theater and Peterborough Players. Notably, she has also acted in JEWTOPIA, the longest running comedy in off-Broadway history and the title role in ANTIGONE at both Portland Center Stage and Kentucky Repertory Theater.
Praise For…
---
Praise for The Dog Who Saved Me
"The heartwarming moments of this story are balanced with the darker realities of a small town. That harmony makes the happy ending all the more rewarding and leaves the reader with a narrative of love and redemption that never becomes cloying." –Library Journal
"Get out the hanky: in The Dog Who Saved Me, New York Times bestselling author Susan Wilson is back with another moving story that illustrates the power that a dog's love and companionship has to change one's life." –Modern Dog magazine
Praise for A Man of His Own

"Touching and heartfelt." —Modern Dog magazine
"A War Horse for dog lovers." – Booklist
"A Nicholas Sparks–ian romantic drama, with an "everyone loves a dog" twist." –Kirkus
Praise for The Dog Who Danced

"Superior. A moving tale about canine healing power." —Booklist
"Fans of Wilson's One Good Dog, or new readers looking for a heartwarming tale of the bond between human and animal, will find plenty to enjoy." –Publishers Weekly
Praise for One Good Dog
"A wonderful novel: a moving, tender, and brilliantly crafted story." —Garth Stein, New York Times bestselling author of The Art of Racing in the Rain
"One Good Dog will make you cry, will make you laugh, will make you feel things more than you thought possible—and it will make you believe in second chances." —Augusten Burroughs, New York Times bestselling author
"[One Good Dog] evokes both laughter and tears, but the ending assures you that humans and dogs are capable of redemption." –Library Journal