You are here
Back to top
You Are Cosmic Code: Essential Numerology (Now Age Series) (Hardcover)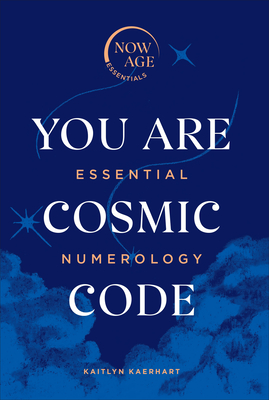 Description
---
Your fate isn't written in the stars, it's in your cosmic code...
You know your astrological sign but do you know your numbers? Get to know the ancient art of numerology and the numbers that rule your life.
Numerologist Kaitlyn Kaerhart introduces the most important numbers for you and the simple method to discover them. Understand your life path number, personal year cycles, life expression numbers, Karmic lessons and balance numbers. They all have important roles, will help you understand who you are and how to live to your full potential.
Find out how numerology works with astrology and the tarot to achieve your goals and find clarity and purpose every day.
About the Author
---
Kaitlyn Kaerhart is a New York-based numerologist and musician. She first studied numerology with an esteemed Indian mystic before spending the following years studying with shamans and healers to help her understand the full power of the numbers in our lives, including numerology's relationship with astrology, tarot and healing practices. She has also studied sound healing, reiki, crystals, meditation, breathwork and hypnotherapy. Her mission is to make numerology as accessible and as easy to understand as astrology. She has also collaborated with the esteemed tarot artist Serpentfire on the Celestial Bodies tarot deck. You can find her on Instagram @kaerhart.