You are here
Back to top
Adventures in Veggieland: Help Your Kids Learn to Love Vegetables—with 100 Easy Activities and Recipes (Paperback)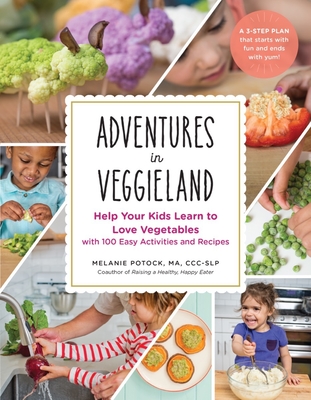 $19.95

Usually Ships in 1-5 Days
Description
---
Your kids can learn to love vegetables—and have fun doing it!
So long to scary vegetables; hello to friendly new textures, colors, and flavors! Here is a foolproof plan for getting your kids to love their vegetables. Just follow the "Three
E
's":
Expose your child to new vegetables with sensory, hands–on, educational activities: Create Beet Tattoos and play Cabbage Bingo!
Explore the characteristics of each veggie (texture, taste, temperature, and more) with delectable but oh–so–easy recipes: Try Parsnip-Carrot Mac'n'Cheese and Pepper Shish Kebabs!
Expand your family's repertoire with more inventive vegetable dishes—including a "sweet treat" in every chapter: Enjoy Pears and Parsnips in Puff Pastry and Tropical Carrot Confetti Cookies!
With 100 kid–tested activities and delicious recipes, plus expert advice on parenting in the kitchen,
Adventures in Veggieland
will get you and your kids working (and playing!) together in the kitchen, set­ting even your pickiest eater up for a lifetime of healthy eating.
About the Author
---
Melanie Potock, MA, CCC-SLP, is an international speaker on the topic of picky eating and feeding disorders in children. She is also the author of Responsive Feeding (The Experiment, 2021), Adventures in Veggieland (The Experiment, 2018), Baby Self-Feeding (Fair Winds Press, 2016, with Nancy Ripton), and the children's book You Are Not an Otter (My Munch Bug, 2019). Her advice, found on her website mymunchbug.com, has been shared in national publications, including Parents magazine. With over twenty years of experience as a feeding therapist and parent educator, she has helped more than ten thousand families from all over the world raise adventurous eaters. She lives in Colorado.
Praise For…
---
"You never know—the fun of this might even encourage [your child] to try other colorful veggies later!"—Parents Magazine

"Children will enjoy the full-color pictures of young people in the kitchen, and parents will discover fresh ideas for meals with even the pickiest eaters."—Library Journal

"Feeding therapist Potock has developed a year's worth of family-friendly recipes along with practical, proven strategies for helping kids learn to become more adventurous eaters gradually. The book features 20 vegetables, organized by season, each with activities and recipes highlighting the three phases to vegetable love: expose, explore, expand."—Publishers Weekly

"Adventures in Veggieland is a fantastic source of yummy and fun recipes kids will love, plus smart parenting advice moms and dads need to help children become adventurous, healthy eaters. You will adore this book!"
—Lindsey Biel, pediatric occupational therapist and coauthor of Raising a Sensory Smart Child

"This delightful book will help children—and parents—approach vegetables in a spirit of fun and exploration, instead of with the usual pressure and dread. Both the activities (Asparagus "Log Cabins"!) and the recipes (Grilled Cabbage Brains!) are so fun, no kid will be able to resist playing with her food."
—Jenna Helwig, senior food editor at Parents and author of Real Baby Food

"I ADORE this book! Melanie understands that to help children develop healthy eating habits, food has to be fun. These truly inspired ideas (so much more than just recipes!) encourage children to play with their food and get them tasting—and loving—everything from beets to cauliflower to broccoli."
—Julie Clark, creator of Baby Einstein and WeeSchool

"This book is a gift. Parents, children, and therapists alike will benefit from the joy and creativity these strategies bring to helping kids learn about healthy whole food."
—Krisi Brackett, MS, SLP-CCC, speech pathologist, feeding specialist, and codirector of the Pediatric Feeding Team at UNC Health Care

"With the growing number of picky eaters, I am so grateful to have such a well-thought-out book to recommend to my clients!"
—Jill Castle, MS, RDN, childhood nutrition expert, registered dietitian, and coauthor of Fearless Feeding

"Fun just explodes from every page of Adventures in Veggieland. Melanie Potock has created a one-of-a-kind cookbook that opens the door to a world where food is not only delicious and healthy, but also the basis of many joyful family memories. Her professional tips and experience along with the bright, beautiful recipes make for a must-have cookbook for parents who want to instill healthy habits in a creative, happy, and relaxed way."
—Nimali Fernando,MD, MPH, founder of the Doctor Yum Project and coauthor with Melanie Potock of Raising a Healthy, Happy Eater

"As a feeding therapist, I need parent- and child-friendly resources to help my clients move ahead in treatment. This book brings together explanations and activities that are easy to do in treatment and at home in just three easy steps: Expose, Explore, and Expand. Melanie has hit another one out of the park!"
—Diane Bahr, CCC-SLP, international expert on feeding, motor speech, and mouth function

"What a wonderful new resource! Melanie Potock's Adventures in Veggieland is destined to become a staple for parents and caregivers, as well as SLPs, OTs, and other professionals. With wonderful photos, clear explanations, and approachable recipes that support child participation, this book offers so many ways to explore, experience, cook, and even play with seasonable vegetables. It will change how kids eat their veggies—it has changed how I want to eat mine!"
—Lynn Adams, PhD, author of Parenting on the Autism Spectrum

"We all want to do more with veggies and this book answers the biggest question of how-to. A must-have for all parents looking for engaging and creative, yet easy ways to explore vegetables with their children!"
—Kristen Beddard, author of Bonjour Kale

"As a nutritionist, I know that filling our plates with vegetables is one of the best things we can do for our health. But as the mom of a reformed picky eater, I know that getting kids to eat their veggies is not always easy. Adventures in Veggieland brilliantly takes the power struggles that never work and replaces them with fun games, yummy recipes, and a sense of adventure. I mean, what's not to love about turning beets into french fries, cupcakes, and even tattoos? Melanie's creative advice is worth its weight in gold!"
—Sara Vance, nutritionist and author of The Perfect Metabolism Plan

"Once you open up Adventures in Veggieland, Melanie has you instantly thumbing through the book looking for the current season. Chock-full of insightful tips for parents and fun crafts for kids, this book brings around anyone, big or small, to see veggies in a whole new light."
—Dave Wilson, author of Broc and Cara's Gut Book Series for Children

"A really cool book that is sure to inspire smiles and healthy eating at mealtimes for everyone involved. At our house, we're all about eating sweet potato volcanoes and chomping up broccoli trees like a dinosaur!"
—Ad Vogele, inventor and director of Fed (Fun Eating Devices)

"If you have a child that won't budge on eating or trying new vegetables, then you have found the right tool. As a parent of a 4-year-old and a healthcare professional, I found myself glued to the pages as it's loaded with so many useful, simple tips and tricks, and full of evidence from clinical studies that anyone can follow. I feel so much smarter and more empowered as a parent after reading, and you will, too!"
—Keith Hine, MS, RD, director of healthcare at Orgain, Inc.

"Melanie Potock truly takes us on a taste bud adventure with this book! She offers amazing tips, activities, and recipes to make eating vegetables so much more fun for the entire family. A great resource for all parents."
—Melanie Braga, owner of Momma Braga, 2017 Blogger of the Year, and assignment editor at The Baby Spot