You are here
Back to top
The Sacred Web Tarot (Hardcover)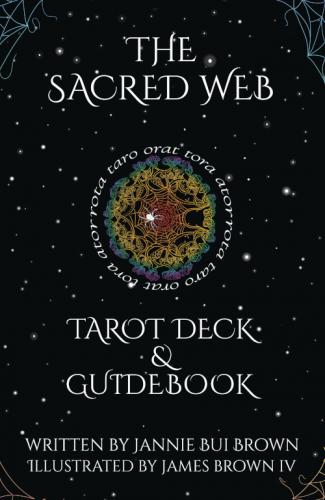 $39.99

Usually Ships in 1-5 Days
Description
---
For fans of The Wild Unknown, a beautifully illustrated, gender-neutral tarot deck and guidebook from a mother-son duo that reminds us we are all connected and provides a highly inclusive experience of self-reflection, self-love, and self-compassion.
The Sacred Web Tarot envisions a world without separation, where everyone and everything is a silken thread in the great weaving of the Cosmos. It is a transformational and timely approach that moves beyond traditional, gendered imagery, card names, and interpretations, focusing on personal and communal growth. Using The Sacred Web, you will discover that every encounter, every energy you meet is meant to teach and transform you.
Born from pain—after James Brown IV sustained a life-threatening brain injury—this stunning digitally illustrated tarot deck is a work of love and affirmation that invites you to sit with your life experiences, be present to whatever arises, and experience challenges as opportunities for self-discovery, liberation, and healing.
This beautifully designed boxset features an illustrated guidebook using only gender-neutral pronouns, and a deck of 78 digitally designed cards with a 79th bonus card: "The Sacred Cosmic Self." Each card is a portal for connection, an invitation to scrub away the illusion that we are separate from others. To deepen your spiritual experience, the guidebook associates each card in the deck with the energy of gemstones and crystals, numerology and astrology guidance, yoga poses, the sacred sound of mantra, and the energy of mudras.
The Sacred Web Tarot invites you to embark on a gentle and uplifting journey of self-reflection through which you can cultivate self-love and in return, love for all things and all beings.
About the Author
---
Jannie Bui Brown has been a yoga teacher for over 20 years. Her practice is infused with her deep connection with tarot reading, gemstones, their energetic properties and how they support the chakra system. She is also an artist creating healing jewelry. All profits of her business are donated to non-profit organizations that are healing the world.
James Brown IV, is an artist, whose mediums range from film making to digital drawing. He is the founder of the small production company Spontaneous Productions and has spent the last few years drawing this deck, reading tarot, writing scripts, and creating original comic content. The Sacred Web Tarot is his first publishing experience.
Praise For…
---
"Originality makes this volume refreshing and offers a thoughtful overhaul sure to intrigue tarot practitioners looking for a new take." — Publishers Weekly