You are here
Back to top
The 4 Disciplines of Execution: Achieving Your Wildly Important Goals (Paperback)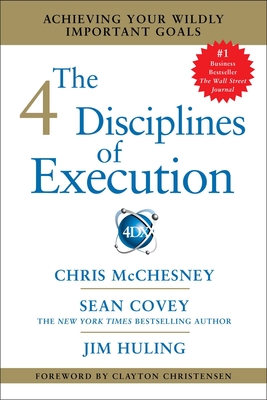 Description
---
"The 4 Disciplines of Execution is a book every leader should read." —Clayton Christensen, Professor, Harvard Business School, and author of The Innovator's Dilemma

For fans of Good to Great and The First 90 Days, The Four Disciplines of Execution is the foundational text for creating lasting organizational change. A #1 Wall Street Journal bestseller with more than 500,000 copies sold, The Four Disciplines of Execution will radically change your business.

Do you remember the last major initiative you watched die in your organization? Did it go down with a loud crash? Or was it slowly and quietly suffocated by other competing priorities? By the time it finally disappeared, it's likely no one even noticed. What happened?

Often, the answer is that the "whirlwind" of urgent activity required to keep things running day-to-day devoured all the time and energy you needed to invest in executing your strategy for tomorrow. The 4 Disciplines of Execution can change that forever.

The 4 Disciplines of Execution (4DX) is a simple, repeatable, and proven formula for executing your most important strategic priorities in the midst of the whirlwind. By following the 4 Disciplines—Focus on the Wildly Important; Act on Lead Measures; Keep a Compelling Scoreboard; Create a Cadence of Accountability—leaders can produce breakthrough results, even when executing the strategy requires a significant change in behavior from their teams.

4DX is not theory. It is a proven set of practices that have been tested and refined by hundreds of organizations and thousands of teams over many years. When a company or an individual adheres to these disciplines, they achieve superb results, regardless of the goal. 4DX represents a new way to think and work that is essential to thriving in today's competitive climate. The 4 Disciplines of Execution is one book that no business leader can afford to miss.
About the Author
---
Chris McChesney is the Global Practice Leader of Execution for FranklinCovey and one of the primary developers of The 4 Disciplines of Execution. For more than a decade, he has led FranklinCovey's ongoing design and development of these principles, as well as the consulting organization that has achieved extraordinary growth in many countries around the globe and impacted hundreds of organizations.

Sean Covey is a business executive, author, speaker, and innovator. He is President of FranklinCovey Education and is devoted to transforming education throughout the world through a principle-centered leadership approach. Sean is a New York Times bestselling author and has written several books, including the Wall Street Journal #1 business bestseller The 4 Disciplines of Execution, The 6 Most Important Decisions You'll Ever Make, The 7 Habits of Happy Kids, and The 7 Habits of Highly Effective Teens, which has been translated into twenty languages and sold over 8 million copies worldwide. Sean and his wife, Rebecca, live with their children in the Rocky Mountains.

Jim Huling is the Global Managing Con­sultant for FranklinCovey's 4 Disciplines of Execution. In this role, Jim is responsible for the 4 Disciplines methodology, teaching methods, and the quality of delivery worldwide. Jim also regularly serves as an executive coach to a number of senior executives.