You are here
Back to top
Chasing Me to My Grave: An Artist's Memoir of the Jim Crow South (Hardcover)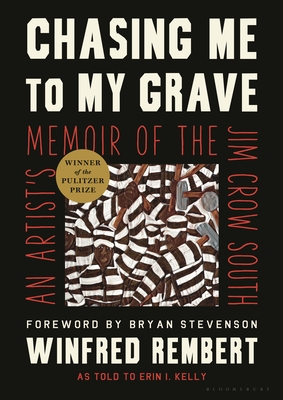 $30.00

Usually Ships in 1-5 Days
Description
---
WINNER OF THE 2022 PULITZER PRIZE IN BIOGRAPHY

Booklist #1 Nonfiction Book of the Year * African American Literary Book Club (AALBC) #1 Nonfiction Bestseller * Named a Best Book of the Year by: NPR, Publishers Weekly, BookPage, Barnes & Noble, Hudson Booksellers, ARTnews, and more * Amazon Editors' Pick * Carnegie Medal of Excellence in Nonfiction Longlist

"A compelling and important history that this nation desperately needs to hear." —Bryan Stevenson, New York Times bestselling author of Just Mercy and executive director of the Equal Justice Initiative

Winfred Rembert grew up in a family of Georgia field laborers and joined the Civil Rights Movement as a teenager. He was arrested after fleeing a demonstration, survived a near-lynching at the hands of law enforcement, and spent seven years on chain gangs. During that time he met the undaunted Patsy, who would become his wife. Years later, at the age of fifty-one and with Patsy's encouragement, he started drawing and painting scenes from his youth using leather tooling skills he learned in prison.

Chasing Me to My Grave presents Rembert's breathtaking body of work alongside his story, as told to Tufts Philosopher Erin I. Kelly. Rembert calls forth vibrant scenes of Black life on Cuthbert, Georgia's Hamilton Avenue, where he first glimpsed the possibility of a life outside the cotton field. As he pays tribute, exuberant and heartfelt, to Cuthbert's Black community and the people, including Patsy, who helped him to find the courage to revisit a traumatic past, Rembert brings to life the promise and the danger of Civil Rights protest, the brutalities of incarceration, his search for his mother's love, and the epic bond he found with Patsy.

Vivid, confrontational, revelatory, and complex, Chasing Me to My Grave is a searing memoir in prose and painted leather that celebrates Black life and summons readers to confront painful and urgent realities at the heart of American history and society.
About the Author
---
Winfred Rembert
(1945–2021) was an artist from Cuthbert, Georgia. His paintings on carved and tooled leather have been exhibited at museums and galleries across the country, and compared to the work of Jacob Lawrence, Romare Bearden, and Horace Pippin. Rembert was honored by the Equal Justice Initiative in 2015, awarded a United States Artists Barr Fellowship in 2016, and is the subject of two award-winning documentary films,
All
Me
and
Ashes to Ashes
. In the last decades of his life, he lived and worked in New Haven, Connecticut. He was posthumously awarded the 2022 Pulitzer Prize in Biography for
Chasing Me To My Grave
. The Winfred Rembert Estate is co-represented by Fort Gansevoort and Hauser & Wirth.
Erin I. Kelly earned her PhD from Harvard and is the Fletcher Professor of Philosophy at Tufts University. She specializes in ethics and criminal law and is the author of The Limits of Blame: Rethinking Punishment and Responsibility (Harvard University Press, 2018). She was awarded the 2022 Pulitzer Prize in Biography for Chasing Me to My Grave.
erinikelly.com
Praise For…
---
"Rembert's art expresses the legacy of slavery, the trauma of lynching, and the anguish of racial hierarchy and white supremacy while illuminating a resolve to fight oppression and injustice. He has the ability to reveal truths about the human struggle that are transcendent, to evoke an understanding of human dignity that is broad and universal." - Bryan Stevenson, New York Times bestselling author of JUST MERCY and founder/executive director of the Equal Justice Initiative

"Chasing Me To My Grave: An Artist's Memoir of the Jim Crow South is a singularly beautiful book, visually, morally and spiritually. Rembert shares his powerful story, which spans consequential, multi-generational movements to resist and transcend white supremacist terror in its many forms, told and depicted with unflinching honesty and unique artistry. Reading this unforgettable memoir of the Jim Crow South, the viciousness of mass incarceration, and the sustaining power of love, it is impossible to turn away from the personal and national history it documents, all while Rembert's stunning visual art mesmerizes the eye and the heart." - Piper Kerman, author of ORANGE IS THE NEW BLACK

"At turns harrowing and haunting, Chasing Me to My Grave is a testament to the rich cultural resources and the poetry of Black Southern life. Rembert's paintings, brilliantly composed, kinetic, and enchanting, are interspersed through his reflections about life in the cotton and carceral South. The language is elegant and vernacular, his observations are insightful and poignant. And through it all, joy, no matter how elusive, never disappears." - Imani Perry, Hughes-Rogers Professor of African American Studies at Princeton University and author of LOOKING FOR LORRAINE: THE RADIANT AND RADICAL LIFE OF LORRAINE HANSBERRY and SOUTH TO AMERICA

"An unparalleled account of the devastating legacies of American slavery and a luminous self-portrait of one defiant artist's extraordinary triumph over white supremacy and segregation." - Douglas A. Blackmon, Pulitzer Prize-winning author of SLAVERY BY ANOTHER NAME

"The power of Rembert's Chasing Me to My Grave is in the unvarnished truth, in the writing, the storytelling, the artwork, his life. Unvarnished literary and visual power." - Carol Anderson, New York Times bestselling author of WHITE RAGE, ONE PERSON, NO VOTE, and THE SECOND

"Winfred Rembert paints a world too little depicted and a reality we can't afford to forget. While testifying to this nation's long history of racial injustice, Chasing Me to My Grave is also a must-read story of Black struggle, solidarity, and love." - Albert Woodfox, author of SOLITARY

"Chasing Me to My Grave is one of the best social histories of Jim Crow that exists. Rembert's life story and richly reproduced autobiographical paintings capture aspects of U.S. History that an archive never could. He makes trauma, tragedy, and pain beautiful through his art, not as a way to romanticize it, but as a way to help us all have a deeper understanding of our past and present. It is a book that should be required reading for everyone in this country." - Elizabeth Hinton, author of AMERICA ON FIRE and FROM THE WAR ON POVERTY TO THE WAR ON CRIME

"Chasing Me to My Grave is a brilliant reminder of where we've come from as a country. We've come to accept William Faulkner's adage, 'The past is never dead. It's not even past.' But Rembert's account reminds us that it is in the remembering of the past that we keep it from becoming prologue. From the Jim Crow South to the chain gang to a life as an artist, Rembert reminds us of the terror and the possibility of America. That he became an artist while in prison says something about the gifts we bury, that he lived to tell this harrowing tale says something about the strength of this man." - Reginald Dwayne Betts, author of BASTARDS OF THE REAGAN ERA and FELON

"Chasing Me to My Grave is a harrowing document of Jim Crow and its legacy, a testament to the pain and brutality of that era. It is simultaneously an ode to the power of love and art that lifts humanity above degradation. An immense achievement that will last the test of time." - Jason Stanley, author of HOW FASCISM WORKS: THE POLITICS OF US AND THEM

"Rembert cultivated a stunning visual language and aesthetic practice as a way of telling a story that is both deeply personal and also an archive of Black freedom struggles. Through art, he meditates on his experience of racial terror and captivity to expand our understanding of this nation's history of anti-Black violence and the force of Black resistance as loving, living, and world-making." - Nicole Fleetwood, MacArthur Fellow and award-winning author of MARKING TIME: ART IN THE AGE OF MASS INCARCERATION

"Chasing Me to My Grave is both a literary and artistic triumph. Winfred Rembert's memoir of the carceral state in the Jim Crow South is a profoundly moving, devastatingly painful, and wonderfully transformative experience. Rembert's earthy prose, evocative images, and grace in the face of racial oppression is an inspiring true story that will forever change the way we look at the system of mass incarceration and unequal justice and those who resisted with love, beauty, and artistic brilliance. This book is a must read for all who are interested in finding out the roots of our current racial crisis as well as the possibilities for truth, justice, and healing." - Peniel E. Joseph, author of THE SWORD AND THE SHIELD: THE REVOLUTIONARY LIVES OF MALCOLM X AND MARTIN LUTHER KING JR.

"Winfred Rembert's story of redemption and survival is an essential record of the stark brutality of post-Jim Crow America and a reminder that this history is still recent memory. His life's work is a compelling example of the power of art to bring visibility to the dark corners of human experience and an object lesson on the incredible resilience of the human will." - Mark Bradford

"Winfred Rembert's life story is an American portrait and history lesson. This book seamlessly shares a Black man's journey of poverty, Jim Crow, racial violence, incarceration, love, family and redemption through his powerful paintings. He brings to life in vivid color and with an exceptional style the stories so many us have heard from our fathers and grandfathers." - Kymberly Pinder, Dean of the Yale School of Art, author of PAINTING THE GOSPEL: BLACK PUBLIC ART AND RELIGION IN CHICAGO

"Many today would prefer we forget what it was like to live under Jim Crow—the fear, the lynching, the ever-present threat of the chain gang if you stepped out of line. Having done time on a Georgia chain gang, Winfred Rembert offers extraordinary first-hand testimony of survival in the face of the everyday racism and brutality of the south's criminal justice system. More than that, by carving his resilient spirit into compelling works of art, he has assured that we will remember the deep imprint that system has left on our nation." - Alex Lichtenstein, Chair of the Department of American Studies at Indiana University and author of TWICE THE WORK OF FREE LABOR: THE POLITICAL ECONOMY OF CONVICT LABOR IN THE NEW SOUTH

"The remarkable thing about Chasing Me to My Grave is Rembert's willingness to be vulnerable, to share from the inside, and to use that to teach other people." - Paul Coates, Black Classic Press

"This is a book like no other, from Winfred Rembert's unique and uniquely powerful autobiographical paintings to his disturbing and courageous life story . . . Rembert recounts diabolical abuse and violence with rare candor and precision . . . By using carved, tooled, and dyed leather as the medium for vibrantly patterned scenes from his life, Rembert turned the scars on his body and soul into artworks of clarion witness and reckoning. With a foreword by Bryan Stevenson and superb color reproductions, Rembert's self-portrait in word and image belongs in every library." - Donna Seaman, Booklist, starred review, "Best Books of the Year"

"In this posthumous work, artist Rembert offers a powerful, unfiltered look at life growing up in Jim Crow Georgia . . . This is a stunning portrait of hope in the face of evil, barbarity, and racism." - Publishers Weekly, starred review

"An ultimately uplifting journey from the ugliness of virulent racism to the beauty of art." - Kirkus Reviews, starred review

"Chasing Me to My Grave is a testament to the ways one man used his art to educate, delight and depict the trauma that arises out of memory." - BookPage, starred review

"Visually stunning . . . Rembert's brutally honest storytelling helps us see the sacrifice and grit it took for Black Americans to survive in the Jim Crow South, something he said should make families proud and want to talk about their history." - Debbie Elliott, NPR

"With the most original of canvases . . . Chasing Me to My Grave is an illustrated autobiography of plain-spoken pains and moments of strength, alongside vernacular art that stops you short. Rembert died at 75, last spring; this is the memorial he should have lived longer to enjoy." - Chicago Tribune

"Captivating . . . Dynamic . . . Visually and narratively stunning." - Library Journal

"A searing first-person illustrated account of an artist's life during the 1950s and 1960s in an unreconstructed corner of the deep South–an account of abuse, endurance, imagination, and aesthetic transformation." - Pulitzer Prize Board 2021-2022

"One-of-a-kind . . . Chasing Me to My Grave is a stunning piece of visual truth-telling. Featuring a foreword by Bryan Stevenson, it's a stark reminder of our nation's ugly history, and the power in reclaiming such history through art." - Chicago Review of Books

"While the horrors of the Jim Crow South have been well documented, Winfred Rembert's memoir in words and paintings lends immediacy and specificity to their lasting trauma . . . A powerful testament to America's most shameful history, but even more so to Rembert's talent and vision as an artist, and to his unique and indomitable spirit." - Sara Hinckley, Senior Vice President of Books, Hudson

"Rembert's life story is as chilling as it is transcendent . . . His paintings bear witness, they're raw, vivid, and colorful." - California Review of Books